Fee Guidelines
We aim to provide our patients with the best in health care that are available in today's market. Our practice is equipped with the latest information technology system, high quality medical equipment, instruments and supplies. Our facility meets strict regulatory standards, with our patients' safety and clinical care as the utmost importance of this practice. We are staffed by team members who have an average of over ten years' experience in medical practice and provide patients with a caring specialist practice in a safe, and comfortable environment.
The cost of providing quality health care whilst minimising an out-of-pocket cost to all our patients is the basis for our fees. Your rebates from Medicare and Private Health Funds (PHF) can vary depending on variable factors. The medical rebate rules in Australia are complex, these are explained in Fee Structures and Fee Subsidies.
Our Fees
This practice charges a medical fee that is fair and reasonable, based on the complexity of the surgical procedure as well as the expertise and experience required for its performance.
Fees for a consultation
A fee is charged for your initial consultation. Part of this fee will be subsidised by Medicare. Your consultation fee will be dependent on the type of consultation you require and amount of time allocated to your consultation. You will be asked at the time of booking your appointment the nature of your condition so that adequate time will be allocated and so the appropriate consultation fee can be advised. This fee is payable on the day.
Separate fees for additional procedures, (such as a punch biopsy, steroid injections or surgical excisions) performed during the consultation, may apply.
Initial consultation fee for a non-surgical cosmetic procedure such as botox and filler injections will be deducted from the cost of your procedure if you decide to proceed.
A skin consultation with the therapist nurse to discuss our comprehensive skin care range and non-invasive treatments such as microdermabrasion or chemical peel is free with no obligations.
For any subsequent consultations, the fees can vary according to the type of follow-up, time lapsed after your surgery/procedure and the expiry date of your referral. Most often, part of this fee will be subsidised by Medicare if your referral is relevant and current.
Please contact us via phone or email for any questions you may have about the fees for your consultation prior to your consultation.
Fees for an operation or procedure
Each operation is specific to the patient. During a surgical consultation, Dr Vrtik will evaluate your condition, assess your suitability and discuss options of recommended operation(s) with you. Unfortunately, we are not able to provide you with a fee for your operation prior to your initial consultation.
The costs of a surgical procedure includes:
The Hospital fee (if the procedure is to be performed in a hospital operating theatre):
The hospital charges for accommodation and theatre fees.
The hospital may also charge for any prosthetic devices or therapeutic goods used during your operation which is not covered by your PHF.
Medicare makes no contribution to private hospital fees.
Your PHF contributes to the private hospital fees.
Please contact your PFH for details of your entitlement
Medical Practitioners:
The surgeon and the assistant at operation (the Surgical Fee – see below)
The anaesthetist
Radiologist (for X-Rays, ultrasound etc required during your hospital stay)
Pathologist (for pathology and blood tests)
The Surgical Fee
A formal quote will be given to you prior to your procedure. This will show you the item number(s) of the procedure, the surgical fee and possible rebates from your PHF and Medicare for each item.
The surgical fee covers:
The cost of the operation
An assistant's fee
Your normal post-operative care including visits in hospital or consulting rooms
Any dressings you may require for up to 6-8 weeks
One postoperative garment as required (additional garments can be purchased via our nurse if requested)
Breast implants if required with any breast surgery
All quoted fees are estimates. For example, in any skin cancer surgery the final fee is dependent on the histopathology result, determined after examination under a microscope. Both the diagnosis and measurements on the size and extent of your lesion will determine the medicare item number, and thus the cost of your procedure. This may sometimes be different to clinical assessment without the benefits of laboratory tests and microscopic vision! In addition, unexpected findings during a your surgery may necessitate an additional procedure to adequately treat your condition, which may incur an increase in surgical fee (e.g. discovery of a hernia during an abdominoplasty) In all cases, Dr Vrtik will carefully evaluate your condition as accurate as possible, so that the closest quote can be given to you prior to your procedure.
A surgical assistant is usually required during the operation; their fee is 20% of the surgeon's fee. The assistant's fee is included in your account and this payment will be passed on to the assistant. For some procedures the assistant fee is rebatable from both Medicare and your PHF, this will be indicated on your quote.
Outpatient Procedures
All procedures performed in our procedure room are considered outpatient procedures. There are no PHF rebates for any outpatient procedures as these do not require hospital admission. The cost of these procedures includes:
The surgical fee:
This will include routine postoperative aftercare and dressings for 6 weeks
There is medicare rebate for this fee, but no PHF rebate
The facility fee
This covers the cost of the procedure room such as staffing, use of medical equipment and consumables (e.g. sutures, needles, syringes, dressings) as well as sterilisation of surgical instruments
There is no rebate from either medicare or your PHF for this but it may be included in your tax refund if you are eligible
This is payable on the day of procedure.
The Pathology fee:
This will be invoiced separately by the pathologist (Sullivan Nicolaides or IQ Pathology)
There is medicare rebate for this fee, but no PHF rebate
Outpatient procedures are recommended in the following circumstances:
If you prefer a walk in, walk out process with markedly decreased down time compared to the process of a hospital admission (which often requires arrival 2 hours prior to surgery).
If the procedure is minor and does not require any sedation or general anaesthesia
If Your PHF excess on hospital admission may actually be more than the facility fee
If you have no private health insurance and would like to avoid hospital fees
If the item number of your procedure does not qualify with your PHF as requiring admission to hospital
For some cosmetic procedures which can be performed under local anaesthesia, to avoid a non-rebatable hospital fee.
For more information about your outpatient procedure, click here.
Fee Structures
The Medicare Benefits Schedule (MBS) fee
The medical fee rebate system in Australia is complicated. Outlined here is a guide to fees and rebates to assist you in understanding the claim procedures.
A set of fees for medical services is determined by the Federal Government and known as the Medicare Benefits Schedule (MBS). The MBS determines a specific fee schedule for a specific service or procedure (coded with an item number).
The MBS fees and our fees were originally similar when it was first introduced in 1985. However, over the years increases in the MBS fees have not been fully indexed and have consistently fallen behind the inflation rate (CPI) and the average weekly earnings increases (AWEI). The costs of providing medical services have risen faster than both CPI and AWEI (see graph below). As a consequence it has become non-viable to 'bulk bill' patients and continue to provide high quality health care at the same time.
We will not compromise the quality of our facilities and services, or the safety of our patient's clinical care, therefore the fee we charge takes into account the progressively increasing costs of providing high quality surgical services.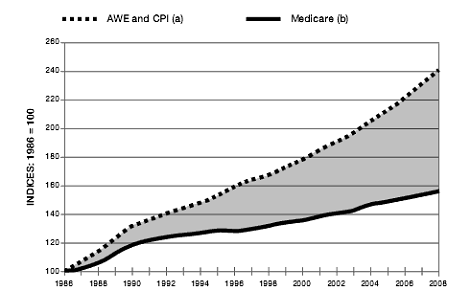 index comprising Average weekly earnings consumer price index (70:30) reflecting the increase in the average cost structures in medical practice
index of Medicare fees as determined by the Commonwealth Government
AMA List of Services and Fees
The Australian Medical Association (AMA) has created a guideline and up-to-date schedule which reflects the cost of medical services with appropriate indexation with CPI and AWEI. The cost of running medical practices includes employment of practice staff as well as operating expenses such as computers, rent, electricity, general and professional insurance, equipments and more. This schedule is known as the AMA List of Service and Fees. The cost of running practices is different depending on location, type, size and quality of practice, thus not all doctors have the same fee structure. The AMA schedule is used only as a recommended reference.
As we provide a high standard of facility and service to ensure patient safety with quality clinical care, our practice fees are based on a percentage of the AMA fee.
The AMA has long campaigned for better indexation of the MBS fees with the Federal Government so that patients receive appropriate rebates for their medical care. Find out more about AMA fees.
Fee Subsidies
Medicare Subsidy
The MBS is used to calculate the Medicare rebate (subsidy) paid to patients for the cost of medical services. For patients not currently admitted to hospital, the Medicare rebate is 85% of the MBS Fee. For patients who are admitted to hospital (either as day surgery or in-patient), the Medicare rebate is 75% of the MBS Fee.

Health Insurance Subsidy
If a patient is admitted to hospital, and is privately insured, the government allows your private health fund (PHF) to pay a further contribution of 25% of the MBS fee for services provided in hospital (on top of your Medicare rebate). PHF cannot contribute to medical services provided to you as an outpatient.
'Gap Cover' for doctors' fees are offered by most PHF for most medical procedures. These are payments set by the PHF and paid directly to the doctor. These payments are based on the MBS and similar to the MBS, the increase in 'Gap Cover' payments over time have not paralleled that of CPI and AWEI, or the cost of running a quality surgical service. It is well below that of recommended schedule as published by the AMA List of Services and Fees.
Although insurance premiums for patients have increased over the last few years, nearly all the payments from the funds have gone to private hospitals, not towards doctors' fees. This has resulted in the 'Gap' which reflects an out-of-pocket expense for an insured patient.
Summary
In-patient services:
Our fees will be a percentage of the AMA list of services and fees. Medicare will rebate 75% of MBS fee and your PHF will rebate 25% of the MBS fee. There will be a co-payment (or 'Gap') for which you are personally responsible.
Out-patient services:
Our fees will be a percentage of the AMA list of services and fees. Medicare will rebate 85% of MBS fee. There are no rebates from your PHF. There will be a co-payment for which you are personally responsible.
Cosmetic procedures:
There are no rebates from Medicare or your PHF for any of the costs associated with a cosmetic procedure. Whether your procedure is considered cosmetic or medical will be assessed during your consultation. For an operation to qualify as a medical procedure stringent clinical criteria published by the MBS will need to be met – with clinical and photographic evidence provided to the Medicare Board. Claiming cosmetic surgery as a medical procedure without evidence will be considered as 'Medicare Fraud' and is a criminal offence.
The MBS rules and regulations set by the Federal Government are very complex and there are numerous exceptions to the above principles. We will do our best to guide you but we cannot change the system. Your PHF may also have its own set of rules, exceptions and conditions. Please check your policy and contact your PHF to find out your rebate eligibility prior to your procedure.
Accounts and Receipts
For all procedures, excluding skin cancer surgery, full payment of the quoted surgical fee is required 10 working days prior to your surgery. Failure of payment will result in cancellation of your surgery. A receipt will be issued at the time this payment is received – this is a receipt for your records only, do not use it for rebate claims. A second receipt with the appropriate item numbers will be issued after your surgery; this is the receipt you use to claim your rebates from Medicare and/or your PHF.
For skin cancer surgery, we will provide you with an invoice showing the full surgical fee after your procedure. We request payment of your account balance in full within 30 days. A receipt will then be issued which can be used for your Medicare and/or PHF rebates.
If you have any any questions regarding your account or our fee structure, please contact our office.