What is a BCC (Basal Cell Carcinoma)?
Posted on 1 November 2020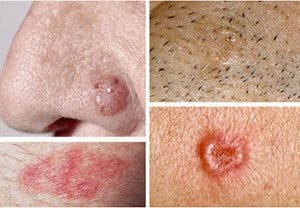 BCCs are abnormal, uncontrolled growths or lesions that arise in the skin's basal cells, which line the deepest layer of the epidermis (the outermost layer of the skin). BCCs are usually caused by a combination of cumulative and intense, occasional sun exposure. More than 4 million cases of basal cell carcinoma are diagnosed each year. In fact, BCC is the most frequently occurring form of all cancers. More than one out of every three new cancers is a skin cancer, and the vast majority are BCCs.
What do BCC's look like?
These skin cancers can appear differently, depending on site, subtype and skin characteristics. They can be:
open sores that does not heal and recurrently scabs or bleeds
red patches that does not resolve
pink or pearly nodular growths, mimicking a 'new' mole
shiny bumps or lump on the skin with or without pigmentation
scars in an area that has not had any history of trauma
Are BCC's lethal?
BCC almost never spreads (metastasizes) beyond the original tumor site. Only in exceedingly rare cases can it spread to other parts of the body and become life-threatening. This cancer is also slow-growing, and are often present for months before it is noticed. It shouldn't be taken lightly, though: it can be disfiguring if not treated promptly. BCC's invade and 'eat away' normal tissues (such as cartilage, muscle and bone) as it grows wider and deeper, thus if neglected and not treated appropriately, one can lose an eye, a nose, an ear or even digits and limbs if it is allowed to grow. The best time to treat a BCC is when it is still small and just in the skin.
How is a BCC diagnosed?
A BCC is often diagnosed with a biopsy, where a piece of tissue is taken from the area and sent for histology. However, sometimes the BCC is so clinically obvious and small, that your doctor may recommend removal without a biopsy.
How is a BCC treated?
There are both surgical and non-surgical approaches to treating a BCC. The non-surgical options include topical treatment with Immiquimod, radiotherapy, photodynamic therapy (PDT), and lasers. Surgical approaches include simple excision, curettage and dessication, Moh's surgery or excision with frozen section. The appropriate form of treatment for a BCC is dependent on several factors such as the subtype of BCC, the patient's fitness for surgery, site of the cancer, and much more. Each modality of treatment has their pros, cons and limitations. To find out what your options are and the best modality for you, talk to your surgeon during your consultation and ask for his/her recommendation.