How do I know I have a skin cancer?
Posted by Dr Lily Vrtik on 27 April 2018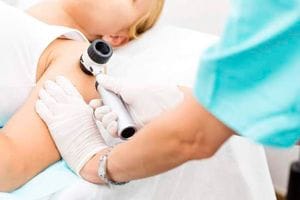 Skin cancers develop as a result of transformation of abnormal skin cells into cancerous cells, resulting in a growth which can invade and destroy normal tissue. There are several different types of skin cancers, and within each types, there are subtypes. They have characteristic appearances, some are easy to detect, whilst others are difficult to see until they are quite extensive. They also behave quite differently, some are fast growing and aggressive, whilst others are slow and indolent.
Skin cancers are usually noticed by the patient's themselves, or sometimes by their relatives. The usual symptoms are:
Sores that doesn't heal and keeps breaking open
Scaly scabs that fall off and reform continually
Growing lump or nodule on the skin
Spots that bleed recurrently with very little trauma (e.g. towelling after shower, shaving, or rubbing)
A pink or dark spot that has suddenly appeared and increasing in size
A mole that has changed colour, shape or size
If these symptoms persist for more than 4 weeks, it may be time to go and see your GP or skin specialist for it to be checked.
Regular skin checks by either your GP or dermatologist is also recommended every 12 months; this should be increased to 6 months if you have a history of skin cancers. Skin checks are important as the doctor check areas where you are unable to monitor yourself, such as your back, scalp, behind your ears and the back of your legs.
The treatment of skin cancers depend on the type, site, size and depth. A biopsy (test sample) is the best way to obtain a diagnosis, and allows optimal planning of the best treatment plan. It can also differentiate between a benign skin growth versus a cancerous lesion. Not all skin cancers require surgery. In turn, some skin cancers can only be adequately treated with surgical resection.
Just remember, if you are in doubt, get it checked out!
To read more about skin cancers,
click here

Author:
Dr Lily Vrtik
About: Dr Lily Vrtik is a fully-qualified and accredited aesthetic, plastic & reconstructive surgeon practising in Brisbane, Queensland (QLD), Australia.