How do I choose a good sunscreen?
Posted by Dr Lily Vrtik on 29 May 2017
There are so many sunscreens on the market, it is often very difficult to know which one to buy. Studies have shown that sun protection is essential, especially at an early age for prevention of skin cancers. Whilst use later in life delays the onset of skin malignancies and signs of ageing such as wrinkles, poor skin texture and pigmentation. Sun protection means physical barriers such as use of shade, covering with clothing and hats, as well as application of sunscreen.
What are the essential ingredients in sunscreen?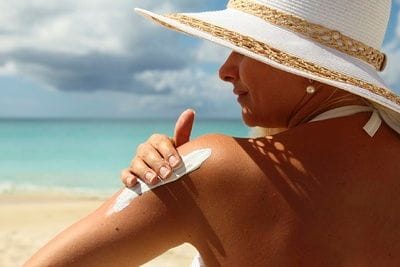 Sunscreen blocks UV rays via two methods, chemically and physically. A physical reflective barrier is formed with the metallic component within the sunscreen. So have a look at the back of your tube of sunscreen, does it have Zinc or Titanium? If so, this is a good sunscreen that will give you the maximum amount of protection. If your sunscreen feels silky smooth and thin, there is a high chance that it does not contain any metallic component, as it is the Zinc or Titanium that thickens the sunscreen.
What does SPF mean?
SPF stands for Sun Protection Factor. It basically gives you an indication of the strength of sunscreen as a ratio of how long it will take your skin to burn. So, if your skin normally burns at 10 minutes, an SPF 15+ sunscreen will prolong that protection, thus your skin will burn at 150 minutes instead. This means, different SPF sunscreens has different implication for different types of skin. Currently on the market, there are various SPF sunscreens, ranging from 10+ to 50+. In theory, anything above SPF 30+ has no further advantage. Sunscreens should be reapplied every 4 hours as natural oils, sweat and moisture from the skin renders sunscreen ineffective after a certain amount of time. SPF 30+ sunscreen will afford you protection from burning up to 300 hours (if you burn at 10 minutes), which equates to around 5 hours of protection. Thus, by using a SPF 50+ sunscreen, even though it supposedly gives you over 9 hours of protection, it loses its effectiveness at 4 hours anyway, by the very nature of its application.
So What does all this mean?
When you buy a sunscreen:
Check the ingredients and make sure it has either Zinc or Titanium in the preparation
There is no need to buy anything 'stronger' than SPF 30+
Make sure you re-apply it every 4 hours at the very minimum

Author:
Dr Lily Vrtik
About: Dr Lily Vrtik is a fully-qualified and accredited aesthetic, plastic & reconstructive surgeon practising in Brisbane, Queensland (QLD), Australia.