The team at Dr Lily Vrtik, Plastic Surgeon
At Dr Vrtik's practice, our friendly and understanding staff members are dedicated to providing you with the best care.
We are here to help you from your first consultation, to guide you through your preoperative preparation and to support you during your postoperative recovery.
We genuinely enjoy our work and are constantly looking for ways of improving our services. If you have any enquiries or concerns, please do not hesitate to talk to our staff.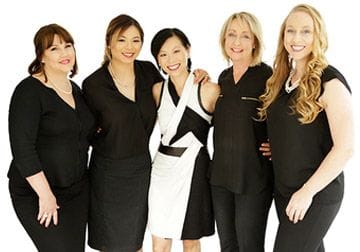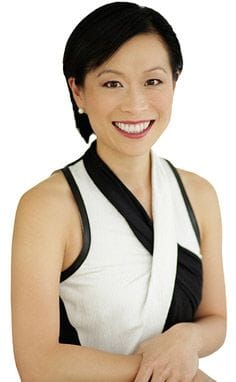 Dr Lily Vrtik (previously known as Dr Lily Chen) graduated from the Medical Faculty of University of Western Australia in 1999. During her early years of surgical training, she worked at Royal Perth Hospital, Sir Charles Gairdner Hospital as well as Princess Margaret Hospital for Children. She completed her last two years of Plastic Surgery training in Queensland, at Princess Alexandra Hospital and Royal Brisbane and Women Hospital.
In 2002, she also spent 12 months working at the world-renowned Chang-Gung Memorial Hospital in Taiwan in their famous plastic and reconstructive unit. During these 12 months, she trained in acute and reconstructive burn surgery, craniofacial, hand and lower limb trauma plastic surgery, as well as cancer reconstructive surgery.
During her training years, she was also involved in various research projects, including the effect of smoking on microcirculation, outcomes of breast reconstruction, techniques on blepharoplasty (eyelid surgery), and reconstructive surgery in chronic burn scars as well as the use of skin cell cultures in burn injuries.
Having spent most of her university life working as a music teacher, Lily continues her enthusiasm for teaching in the field of Surgery. She is regularly involved in hospital-based educational session for other doctors, in particular, general practitioners. She also holds public consultant position at Princess Alexandra Hospital where she participates in the teaching of junior doctors, medical students, and nursing students. Lily has also been an active instructor and faculty member in nation-wide EMSB (Early Management in Severe Burns) courses for the past 3 years. As part of ASCA (Australian Skin Cancer Academy), she is regularly involved in teaching doctors about skin cancer management. Lily is also a specialist reservist in the Royal Australian Air Force and participates in not only active clinical care, but also educational activities, and various field exercises.
Lily enjoys her work immensely and has special interests in both cosmetic and reconstructive breast surgery, microsurgical reconstruction, as well as hand and lower limb trauma surgery. She particularly enjoys facial rejuvenation procedures and pays detailed attention to her results. Apart from being passionate about her work, Lily is well known for her sensitive, warm personality and approachable nature. In her consultations, she is frank in her discussions and gives honest opinions. Her caring nature enables her to create a balance between the clinical and personal aspects of patient care.
Lily may have no time for hobbies, but she has immense interest in various charities. As a student, Lily was a volunteer with Mission Australia for several years; then as a young doctor, she worked as a volunteer doctor for various sporting and racing events for over 5 continuous years. In 2002 and 2003, she travelled with the Nordhoff Foundation Team to Cambodia, as part of the cleft lip & palate surgery team working to help local children. Lily and her husband have been UNICEF global parents for more than 10 years, and have sponsored more than 8 children over the last 15 years. One could say her favourite and most enjoyable pursuit is to find ways to make a difference.
Professional Affiliations
RACS Royal Australasian College of Surgeons www.surgeons.org.au
ASPS Australian Society of Plastic Surgeons www.plasticsurgery.org.au
ASAPS Australian Society of Aesthetic Plastic Surgery www.asaps.org.au
ANZBA Australian New Zealand Burns Association www.anzba.org.au
ISBI International Society of Burn Injuries www.worldburn.org
AMA Australian Medical Association www.ama.com.au
Mater Private Breast Cancer Centre www.breastcancer.mater.org.au
North West Breast & Oncology Service
Media
To see Dr Lily Vrtik in the latest media release, click here.
Marnie Took (Practice Nurse)
Marnie graduated from QUT with a Bachelor of Nursing Science in 1994. She started her career working in infectious diseases for two years before her long affliation with nursing in the field of plastic & reconstructive surgery. Marnie is currently in her twelfth year in this specialty, and has vast experience in all areas of pre and post operative surgical care for plastic surgery patients.
During her career, aside from her clinical nurse expertise, Marnie has developed a keen interest and knowledge base in non-surgical facial enhancement. Her special interests and skills include microdermabrasion, facial skin peels, acne treatments and anti-ageing skin care.
As an experienced practice clinical nurse, Marnie is very aware of how sensitive the surgical area is, and takes care to make your post operative experience as pain free as possible. After twelve years in the industry, her Claim to Fame is that her suture removal is almost pain free! Marnie loves a chat and is always happy to answer any questions you may have, no matter how big or small they may seem.
So, whether Marnie sees you on the way in, during or after your procedure, she is always happy to answer a question, lend a hand or give a reassuring smile.
Heather Day (Practice Nurse)
Heather's passion for caring for people began whilst working as a medical receptionist in General Practice between 1994 -2016. During this time she enjoyed teaching students for a medical administration training company and loved sharing her knowledge and enthusiasm for medical administration with others. After the arrival of her twin boys in 2006, she decided to follow her career goal and study nursing. So with three small children, working part time and great organisation skills and determination she obtained one of her greatest achievements to date, graduating with a Diploma of Nursing from SBIT in July 2010.
After a brief period working in the hospital setting, she returned to General Practice as the hours were more conducive to raising a young family and it also offered many opportunities to provide patient care for a variety of presentations. During this time she developed a keen interest in Wound Care and assisting with minor surgical procedures which led her to seek employment as a theatre nurse in the Day Procedure Unit at North West Private Hospital. She was fortunate to be able to work with Dr Lily, who then offered her a role as a Practice Nurse in our private practice. This transition has enabled her to expand her knowledge in providing wound and post op care and deliver this care in a manner that has our patients feeling valued, relaxed and active partners in their health outcomes. You will meet Heather in our rooms, but she also continues to look after our skin cancer patients at the Day Procedure Unit at North West Private Hospital.
Heather has a motto: "Do what you love everyday" and she will tell you that she certainly does at our practice!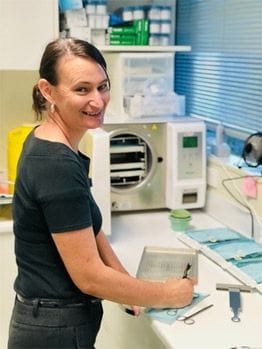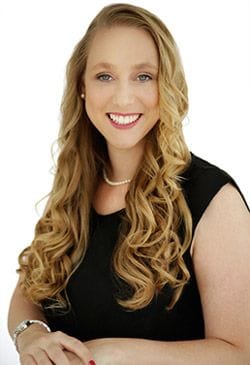 Carrie Dallimore (Practice Manager)
Carrie has been an administrator in the medical industry for 16 years and has always had an interest in medicine/anatomy.
Working in various roles and specialties, from lead receptionist in a busy GP practice to executive assistant to a neurosurgeon, to practice manager for a gastroenterologist, Carrie has aquired a lot of knowledge and has gained experience not only in the administrative side of things but this has also given her the opportunity to be an observer for many different surgical procedures. This has given her better insight and understanding of the total process a patient goes through from booking their first appointment to post surgery. Carrie has many roles in our practice, from the 'tech-trouble-shooter' to being the practice mum who checks on everybody's wellbeing. Carrie is very particular about how things are done, she takes pride in being efficient and her calm demeanour is appreciated in our busy practice.
Carrie loves being able to help people, both patients and the staff is always happy to help or answer any questions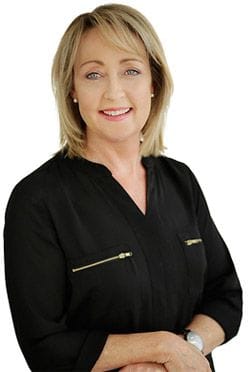 Jan Stinson (Reception/Medical Secretary)
Jan has had over 20 years' reception and administrative experience in various medical centres, in both general practice as well as specialist practices. Prior to this, she has also worked as an assistant nurse in Aged Care for more than 5 years, and the hospitality industry for over 10 years. For those of you who have had to contact our office, you would be familiar with Jan's voice and her friendly, helpful personality.
Jan lives at home with her husband and four children. When she is not mothering her children, she mothers everyone else in the office, including our patients! Jan's big heart has a very widespread reputation.
Jan is passionate about her job and the patients that we look after. She is well known for her compassion, patience, and going that extra mile to help others. She is definitely a favourite amongst our clients and a valuable asset to our team.