Is bigger better?
Posted by Dr Lily Vrtik on 14 October 2018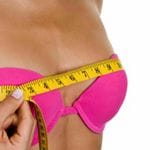 Often when one is considering breast augmentation, the advice is to go bigger. Our advice is to consider a few factors:
What clothes do you like to wear?
How noticeable do you want them to be?
What breast shape are you considering?
How active is your lifestyle?
Considering that most clothes off the rack are made for C-D cup breasts, if you go bigger, you may have to upsize your shirts and dresses to fit around your chest (thus they can be baggy around your waist). You may also have difficulties finding bras. Another consideration with large implants is that they are also wider, so sometimes they may make one look rounder around the rib cage and increase in bra width may be necessary.
Some women prefer breast augmentation so that they can fill out a dress or shirt comfortably without being too obvious, whilst other like to be 'busting out' of their shirts. Obviously, the larger the implants, the more noticeable they will be. Larger implants (regardless of implant shape) may also create the 'shelf-look' at the superior pole of the breast, whilst the appearance of smaller implants are often more discreet.
For those who are very active, especially heavily involved in athletic sport such as running, large breasts can be both a physical hindrance and excess weight on your neck and shoulders. Often in thin athletic women, the implants will need to be placed under the muscle, thus contraction of the chest muscles during heavy activities may result in visible movement of the implants (known as animation).
When you are considering breast augmentation, talk to your surgeon, and let him/her get to know you, so that they are able to give you the right advice in regards to the most suitable size and placement for your desired look and lifestyle.

Author:
Dr Lily Vrtik
About: Dr Lily Vrtik is a fully-qualified and accredited aesthetic, plastic & reconstructive surgeon practising in Brisbane, Queensland (QLD), Australia.