Breast Implant Related Anaplastic Large Cell Lymphoma
Posted by Dr Lily Vrtik on 1 February 2019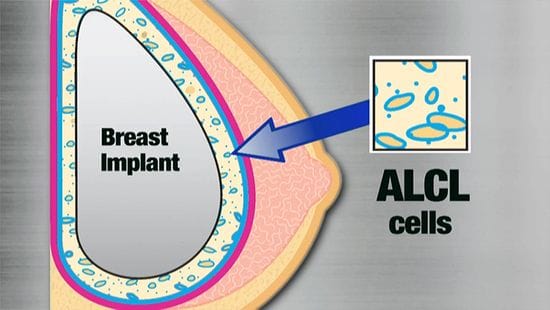 What is BIA-ALCL?
This is a rare form of lymphoma that develops adjacent to breast implants. It is difficult to be certain about the absolute risk because not all implants used are registered, and not all cases of ALCL are registered. The risk is also dependent on the type and brand of breast implants. The estimated general risk is ranges from approximately 1 in 2700 to 1 in 80,000 depending on the type/brand of implant. It is not breast cancer, which has a general risk of 1 in 8 women.
Are all implant types associated with BIA-ALCL?
ALCL has not been identified in women with smooth implants. There has been some suggestion that polyurethane and certain types of textured implants are associated with a higher risk or incidence. It occurs in both women who have implants for cosmetic reasons and those for reconstruction. It has occurred in women with saline implants as well as silicone implants.
What are the symptoms of breast implant associated BIA-ALCL?
The most common symptom is sudden and persistent swelling of the breast (due to abnormal fluid collection) a few years after implant surgery. Please note that it is quite normal to have some fluid around implants, but in minimal amounts. It is also quite common to have swelling and fluid around the breast implant within the first few weeks after surgery.
It may also present as a lump in the breast or armpit. Normally symptoms occur around 3-14 years after implant insertion, and most commonly around 8 years. It is diagnosed by ultrasound guided aspiration of the fluid collection around the implant. Mammograms are not useful for diagnosing ALCL.
What is the treatment for BIA-ALCL?
The treatment is usually removal of the implant with its fibrous capsule. Currently, the treatment recommendation is to have implants removed from both side even if the disease is detected only on one side. In a very small number of cases where the disease is more advanced, further treatment with chemotherapy or radiotherapy may be required.
Can I have implants again if I have had BIA-ALCL?
It is not recommended to have implants replaced at the time of removal. Smooth implants may be considered for re-insertion approximately 12 months after appropriate treatments. However, there is very little evidence (especially long-term) at present to determine the safety of doing so.
How can I find out more information about BIA-ALCL?
The Australian Society of Plastic Surgeons (ASPS) website has appropriate information and links: www.plasticsurgery.org.au
The Therapeutic Goods Administration is the government body for medical devices: www.tga.gov.au/alerts
To read more about breast implants, go to our All About Breast Implants page or click here to read about all our blogs on Breast Implants.
If you are worried about your breast implants, make an appointment with your surgeon to discuss further.


Author:
Dr Lily Vrtik
About: Dr Lily Vrtik is a fully-qualified and accredited aesthetic, plastic & reconstructive surgeon practising in Brisbane, Queensland (QLD), Australia.